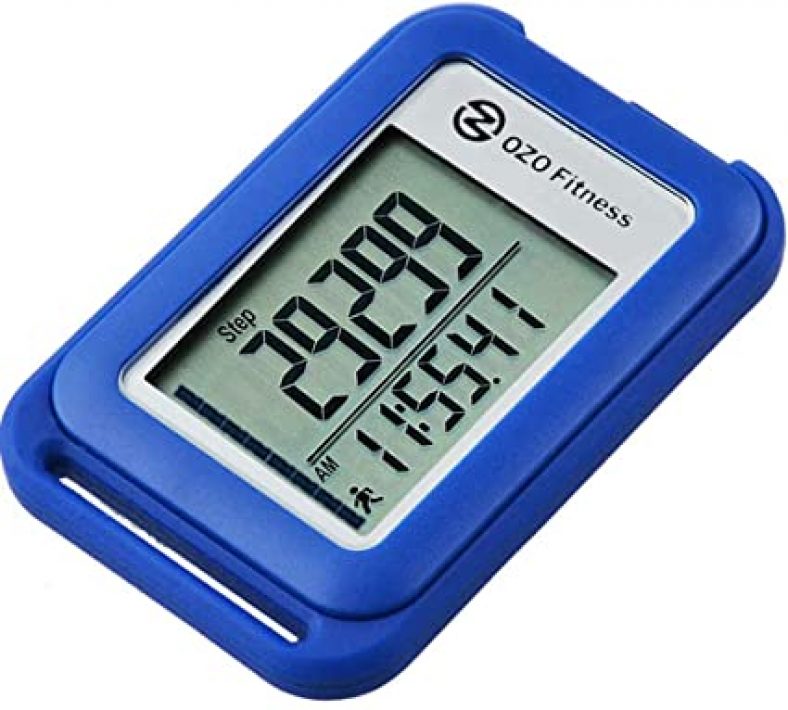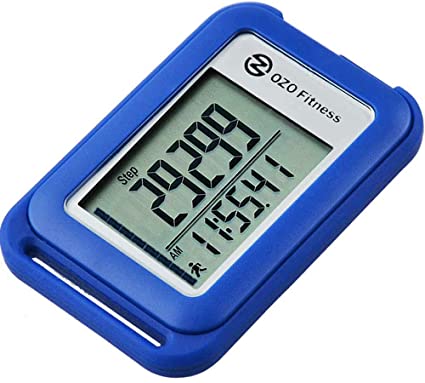 We all know that exercise is important for our health, but not everyone has the time or the energy to do it intensely. At old age, our physical capabilities decline. Staying fit and healthy is an everyday struggle for seniors, but there is one thing that can help them take control of their lives again: a pedometer.
Yes, with the best pedometer for seniors at hand, any elderly can easily achieve fitness goals as the device would count their steps, how much distance they covered, making it easier to plan a fitness routine for elders.
10 best pedometers for seniors 2021: Best step trackers review
A pedometer not only lets them know what their activity level is for the day, but it also provides encouragement and accountability. But first, you gotta get a good device.
To simplify this process and make sure that you get your money's worth, I narrowed down my list of best pedometers for seniors by researching each product extensively before making any recommendations. You can have a look at them below:
1. Fitbit Charge 4 Fitness and Activity Tracker
Sleek, durable, and feature-riched; this incredibly advanced pedometer from Fitbit is going to make your daily exercise more organized while offering you a comfy user experience. The first thing you will spot from this ultra-modern gadget is the easily readable perfect-size screen. The screen shows all the necessary information clearly and you can effortlessly scroll through different menus according to your needs.
In addition to that, this item comes with a built-in GPS to track your pace and distance meticulously while creating a new workout intensity map after every workout session. Also, the new active zone minutes feature displays how hard you have worked as well as your fitness progress with just the tap of a finger.
Get notifications from the tracker when you hit your target heart rate zones during exercise so that it feels like an achievement every time. Also, you can keep pushing and drive your heart rate up when you are touching that targeted heart rate zone. It ensures maximum calorie burn too.
Apart from that, the pedometer is also equipped with a gorgeous wrist band that fits and feels comfy on our wrists and its band is washable too. Besides, the Fitbit Charge 4 offers a 24/7 heart rate tracker that records resting heart rates.
The app of Fitbit syncs with your smartphone via Bluetooth LE or internet connection and can sync up with Mac OS X 12.2+ as well as Android 7+. So, you can throw funny and interactive challenges to your friends using the app as it comes with 20+ goal-based workout modes.
The best thing about this waterproof Fitbit product is that it requires charging once a week if you don't use the GPS feature ( Charge lasts 5 hours with GPS). Also, it tracks your sleep if you go to bed wearing this thing.
Pros:
1. Simple interface makes it easily manageable by seniors
2. Active Zone minutes feature
3. Built-in GPS and 50m waterproof
Cons:
1. The battery drains quickly while the GPS is on.
2. Garmin Forerunner 35 GPS pedometer
Live a full life while staying fit! If this is your motto, the Garmin Forerunner 35 will help you do both with its fantastic features. Moreover, This is the perfect pedometer for those seniors who are looking to get in shape. It's so easy to use and features such a sleek design, it will be their favorite running, jogging, and workout buddy!
This lightweight device has all the necessary attributes to keep the senior citizen healthy and active, whether they are looking to work out or just want an easier way to track their steps each day.
The amazing and innovative wrist-based heart rate measurement technology will monitor heart rates accurately day and night. Plus, it incorporates a built-in GPS to track your pace, location, intervals, and distance.
To get the most out of this gadget, connect it to your Smartphone, and it will provide you music control and live tracking facilities. It will also send you social media and phone notifications so that you can quickly reply to them without disrupting your rhythm.
What's even better, this Garmin pedometer tracks your daily activity without any error. That's right; it will monitor how many steps you take and the calories burned, as well as remind you when it's time for some exercise! You will also enjoy its walk/run mode as it will guide you like a pro instructor about when to speed up and slow down.
Pros:
1. Fast satellite acquisition
2. Can pair with external sensors like chest straps and foot pods
3. The screen is easy to read
Cons:
1. No advanced music controls; only the basics
3. Omron HJ-112 Digital Pocket Pedometer

You're about to embark on your journey of being physically fit and you need a pedometer that will work no matter what, right? Introducing the HJ-112 Pedometer from Omron, a stunning device, known for its accuracy in all of its forms. The dual-axis model tracks your steps precisely, whether it's clipped to your bag or being carried around with ease inside of your pocket!
Omron Pedometers are great for those who love to be on the go. Unlike traditional pedometer models, this gadget uses smart sensor technology which is more accurate than an old-style pendulum system. The HJ-112 model even allows you to program your personal stride length into it so that all of your steps can count without any issue!
Moreover, this excellent device is adorned with 6 effective tracking modes including time, distance, calories, fat burning, aerobic steps, and track steps. So, you will have plenty of options to choose from during workout hours.
Another fascinating feature of this pocket pedometer is it automatically resets every midnight allowing you to make a fresh start every morning. Hold on! It won't erase previous data. Instead, it keeps a weekly log which will help you track your overall progress.
However, the HJ-112 is a piece of sturdy equipment that also has a clear and large screen. Omron includes an instruction manual, screwdriver, clip, strap, holder, and a lithium battery with this product.
Pros:
1. It uses the innovative smart sense technology
2. Ideal screen and font size for seniors who struggle to read tiny font size
3. It stores 7 days of information
Cons:
1. Its Belt's clip is weak and flimsy
4. 3DFitBud pedometer

If you are looking for a simple but stylish pedometer for your grandfather to give him on his birthday or any special upcoming occasion, this 3DfitBud with the extra-large digit display will be the number one contender.
To give the senior citizens a comfortable experience, this device offers 3 wearing options. So, you can mount it on your hip or cloth using the supplied removable clip or you can wear it around your neck using the lanyard which also comes with the pack.
Don't worry, you can also put the gadget inside a bag or your pocket and it will do its intended task precisely.
It has become extremely popular among old people because of its simplicity. Yes, this step counter requires no setup and features one of the easiest user interfaces of this industry.
With simple functionality and eye-catching design, it quickly makes a special place in its users' hearts. Without any internet connection or Bluetooth settings, even the most techno-phobic people will admire this product.
Despite its simplicity, it provides the most accurate information in terms of step counting with the help of the latest 3D Tri-Axis Sensor technology. It doesn't count the sudden movements too. As a result, you can do an appropriate amount of workouts each time which will help you achieve your fitness goals much faster.
Furthermore, this device comes with a high-quality battery that lasts up to 12 months and requires no charging. The pedometer also has a "go to sleep" mode which turns it off when you stop moving. This feature makes the battery further durable.
Pros:
1. Simple design and large display
2. Shows accurate information
3. No setup required
Cons:
1. The reset button is not ergonomically placed
5. Fitbit Inspire 2 Health & Fitness Tracker

Fitbit has been a leading brand in the fitness industry for years now. Although Fitbits are more expensive than other pedometers on the market, it's worth taking into consideration because of its numerous features and perks that make workout tasks much easier!
The Inspire 2 is one such product from this company that offers plenty to love with regards to how comfortable it feels while also being good-looking too. With a reasonable price tag and all these benefits, you can't go wrong when picking up this smart tracker!
This amazing wizard not only tracks your daily activity and heart rate but also monitors your sleep too. Yes! You read it right. It will accurately measure how long you slept and if your sleep was interrupted. Therefore, you can make a good routine following your sleep pattern.
Its 24/7 heart rate tracking feature works wonders for seniors as their heart is not as strong as teenagers or young people. They can also get a pdf report of their fitness stats crafted by this pedometer and consult with healthcare professionals.
Plus, it allows us to know our resting heart rate and estimate better calorie burn. You can earn active zone minutes by reaching the target heart rate zones and stay more focused.
Apart from workouts, running, and cycling, this Fitbit model can be worn while swimming as it's swim-proof( 50m waterproof). Moreover, you can make your daily fitness activity more engaging and challenging with the help of a 1-year free trial of Fitbit premium.
Pros:
1. Easy and fast charging system with a long-lasting battery
2. Free 1 year Fitbit premium trial
3. Lightweight, slim and attractive design
Cons:
1. It doesn't come with a built-in GPS.
6. Akasma Fitness Tracker

For those who want a low-priced, quality product that will do the job without any fancy bells and whistles, this feature-packed fitness tracker from Akasma will be an ideal pick for them.
Setting up the pedometer is an unbelievably easy process that can be accomplished in just a few simple steps. All you have to do is download the app, click "pair", and BOOM! You're ready for your next hike or run around town with nothing else on your mind. The device is compatible with both IOS and Android operating systems.
This cool device also collects data when worn around your wrist while you're in bed. Yes, it tracks all sorts of statistics about your sleep pattern and you can have the full sleep report in the morning. In addition to that, this pedometer monitors our hearts' performance efficiently. It will measure and show the minimum, maximum, and average heart rate without any error.
You can smartly manage your smartphone's calls, notifications, and SMS using this gadget. So, you don't have to pull out your phone during intensive workout sessions. It also comes with an attractive phone finder feature. It will help seniors who frequently forget where they have put their phone last time.
This step tracker is also equipped with a silent alarm that wakes you up without disturbing your partner. Also, with the built-in USB system charging style, you won't need to carry around any separate charging wire. Just attach it to a USB port and it will start charging.
Pros:
1. Affordable price
2. No separate charger is needed
3. Real-time heart rate monitoring
Cons:
1. It's not swim-proof
7. Amazfit Band 5 Fitness Tracker

Amazfit's fitness tracker band came up with something I always wanted in modern devices, they included Alexa inside the device.
Virtual assistants are becoming a part of our lives. It's hard to find people nowadays in the west that haven't heard of Siri, Cortana, or Alexa. They've blended in our lives so well that it's hard not to have them around. And if you use this band, you don't have to get separated while you're out.
Alexa will do what it does best, it'll navigate for you, set alarms, and can even check the weather for you. Okay, enough about Alexa, let's talk about other features of the device.
This fitness tracker does an excellent job of keeping count of your steps in real-time and has 11 sports modes. But that's not all, it'll monitor your heart rate, how much distance you've covered, and the amount of calories you've spent.
I love the huami-PAI health assessment system that records all these factors and shows a numerical score to give you an easier understanding of your physical condition.
It doesn't end here, this will also record your blood oxygen saturation level. The HD AMOLED display shows everything with crystal clear clarity.
With it, you can check your sleeping patterns, stress levels, and also conduct breathing exercises. And for females, it'll also record their menstrual cycles, predict and notify them of upcoming ones.
You also get various apps to keep you busy while you're walking, notably the remote control music that lets you play a song from your phone. And yes, Alexa will indeed sync with your phone, and your home services too. It's like a complete ecosystem!
Pros:
1. A full charge cycle can last 15 days
2. Sleep quality monitoring
3. Tracks heart rate and oxygen saturation
4. Remotely operates phone music and camera
Cons:
1. Tiny texts on the screen, hard to read under sunlight
8. YAMAY Fitness Tracker Step Counter

Here's another digital step tracker that's also not shy about dishing out magnificent features. But while it's up to date with all modern perks, it does its job of counting how much you've walked perfectly.
Its accuracy is great and tracks your steps in real-time. It comes with 14 sports modes, monitoring your workout better. With it, you can also check how many calories you've burnt.
The display is big enough, you can easily look at what you want at a glance. The coolest thing about it is that it has a colored display, so you process information faster. It'd be easier to look at even on a sunny day. And the device is IP68 waterproof.
Thanks to the wrist sensors you can monitor your heart rate throughout the day, as long as you have it on your body. The state of the art HR sensors provide precise heart rate readings.
Wait, there's more, it'll even monitor your sleep cycles, deep sleep time, light sleep time, and at what time you wake up.
You can also set up an alarm for when you want to wake up and it'll vibrate at that hour. Let's not forget, at the end of the day it is a smartwatch! So you'll be getting updates from Facebook, Whatsapp, Twitter, Instagram, and other social media too.
This will also send you notifications for your phone calls and messages. Plus, you can connect it to your phone's GPS and help select favorable routes for your daily walking/running sessions.
It's one of my favorites from this list.
Pros:
1. 24/7 heart rate monitoring
2. SNS updates from popular social media sites
3. IP68 waterproof wristband
4. On the go charging with USB port
Cons:
1. Breaks easily if accidentally falls
9. CS1 Easy Pedometer for Walking

This pedometer from CS1 is one of the most budget-friendly pedometers in the market nowadays. It's extremely easy to set up, just pull the insulator out and you'll be ready in seconds.
It's a simple 3D step tracker that requires zero programming, making it an ideal pedometer for women, men, kids, and the elderly; all alike. Its simplicity is what makes it so popular.
Unlike other modern devices, it doesn't dwell in many different colorful but confusing features, it's fully straightforward. You turn it on, you walk and you check how many steps you took- in real-time. There are none of those bluetooth connectivity, app, or smartphone sync present here, but that's also why it's so affordable!
You get very accurate step recording with this machine, it gives almost precise step counts all the time. One of the reasons I love it is because numbers take up the entire display.
Not having too many different factors to record meant more space for the recorded steps to get displayed. You don't have to squint your eyes just to see how much you walked, one glance is enough. It'll surely be of help for those with bad eyesight, or the elderly.
Another thing, because it doesn't have to record too many factors, it also has to do less work, resulting in better battery life. It also dims the backlight when not active to save power, and it'll come back to life as soon as it senses any movements.
Sometimes, you might accidentally press the pedometer and reset the counter. But since the reset button is positioned behind, it's most likely not gonna happen here.
Pros:
1. Easy 2-second setup
2. No programming needed
3. Simple UI, and large display
4. Good battery backup
Cons:
1. Doesn't record distance
10. Realalt 3DTriSport Walking 3D Pedometer

Here is our last pedometer of the queue and this well-equipped device has all the essentials to become the best pedometer for seniors. Yes, this gadget plays the role of a prudent motivator especially for aged people who love to stay fit and attractive by assisting them in achieving fitness goals.
The beauty of the step counter is it is perfect for people of all ages! It's easy to read, lightweight, and compact. You can track your daily steps (walking and running), distance in miles or kilometers, burned calories as well as exercise time with this device. It incorporates a large screen that makes it cooler than ever before.
When it comes down to accuracy, this Realalt guy can be your most reliable weapon as it is backed up by the newest 3D Tri-Axis Sensor Technology. So, it's going to track your daily activity flawlessly no matter where and how you place it on your body.
Thanks to the supplied clip and lanyard, it can be attached to your clothing and worn on the waist for the utmost convenience.
With 30 days of memory for total accumulated progress records and the 10-step error prevention feature, you will have an accurate depiction of how much exercise you've been getting in one day or overtime! It also lets you set a daily target for yourself.
Plus, it has a durable battery that offers up to 12 months of service. Its standby mode also helps the battery to perform its best conserving power when not in use.
Pros:
1. Tri-Axis Sensor Technology.
2. 10-step error prevention
3. Heavy-duty battery
Cons:
1. The device does not shut off during a road trip by vehicle
Things to consider while buying a pedometer for seniors [Buying guide]
A pedometer for seniors is a tool that can help monitor their activity and ensure they are doing enough to get their daily exercise quota. There are many factors that one needs to consider when buying the best pedometer for seniors. Let's see them…
Type of your exercise
If you are the kind of senior who enjoys brisk walking and jogging, a pedometer with GPS features will be a great choice for you. However, if you're one who likes to move at a slow pace or take a stroll around the block, then it's better to get a pedometer that is not equipped with GPS features. Remember, GPS-enabled step counters consume more battery charge.
Build quality
Do not choose a pedometer that is made with cheap plastic. It can be easily damaged. You should also make sure it comes in a sturdy and soft material so that your body won't feel any discomfort when you wear it on your waist.
Usage
Pedometers come in various sizes, shapes, colors, and screen designs. Grab the one that is easy to use and also suits your lifestyle. You can buy a pedometer that monitors both walking and jogging, or just one specific type of exercise. By spending some extra bucks, you can also get features like heart rate monitoring, sleep monitoring, Etc.
Manufacturer
Many manufacturers offer pedometers, but not all of them feature the most advanced technologies. However, picking pedometers from companies that have a good reputation in the market will be a wise decision. So before buying, make sure you do a little research on the brand. You can find out about their product quality, customer service experience, etc.
Battery
Your pedometer should come with a long-lasting battery otherwise it will be useless after a couple of weeks or months. Check for features that allow your step counter to store data even when batteries are low. It will keep the record of the number of steps you have taken until new batteries are inserted.
You can also get the pedometer that has an easy and quick charging system so that you can have a better user experience.
Waterproof
Pedometers that go with you into the water during swimming activities or take showers are great. They have the water-resistant feature and can be easily washed under running water. However, you will need to spend more money when buying this type of pedometer.
Compatibility
You may want to compare the compatibility of your pedometers with other devices like smartphones or computers so that there would be no hassle while transferring data from one device to another. Make sure the device works perfectly with both Apple and Android operating systems.
Apps
There are many apps available for smartphones that help you track and record the progress of your workout in a pedometer. You can choose a pedometer that works great with these apps or one that comes along with its own app.
Size
Pedometer for seniors should be comfortable and lightweight. It should not slip from its place and cause any pain or discomfort. Make sure it is small enough to be placed in your pocket or hung around your neck.
The proper way of wearing a pedometer
Getting a pedometer isn't the end. Did you know that there is a right way to wear your pedometer? If the tiny device isn't in just the perfect spot, it may not be counting all of your steps. Many people think just hanging the pedometer on their body would make it track their steps but sometimes it might not be accurate that way.
But don't worry – I'll help you make sure what counts and get an accurate step count!
Some people clip their pedometers onto their belt or pants pocket while they walk around town. You may think that a pedometer is supposed to go on your waist, but it's not!
And if you have a large tummy, then it might push the pedometer out to an unwanted angle.
This leads people to take fewer strides per minute than if they had worn theirs over its rightful place: hanging vertically from one's waistline with the sensor placed directly above one's knee joint.
To double-check accuracy, try swinging at arm's length away from yourself like when playing baseball; many find this more comfortable.
So, if you want the best step count from this device then the best place to wear a pedometer would be to hang onto clothes or pants that go over your knee.
I'd also like to mention that nowadays, people get wristbands that come with built-in pedometers, in those cases, you just wear it on your wrist like you'd do for a watch.
There are also pocket pedometers that can sync with your phone, so you don't have to hang it outside, rather leave it in your pocket. I must also say that even smartphones nowadays have their own version of pedometers, like iPhones.
How to check if the pedometer is working properly or not
You can test it to check if it's the way you want in a few simple steps [pun intended]:
Place the pedometer like I mentioned above and start walking. Make sure that you go for at least 50 steps before stopping to check how many it clocked.
If there is a significant difference between your count and the readings, try repositioning it as needed or just keep going until you reach 100-150 total steps (or more if necessary).
To ensure accuracy in readings from a new device, walk with the device set to zero for identifying errors easily. You don't need perfect strides but should cover about ten feet of ground each time whenever possible. After 100 or so reps, recheck the count.
Be extra vigilant about your pedometer's position. The numbers should face up, the device shouldn't be tilted or crooked. For consistency's sake, keep it at the same place for all readings.
Record all the results on a small diary or a piece of paper as actual steps and pedometer reading. At the end of the day, you'll have a few sets of data, compute the precision of each session separately and then make an average. That's the average accuracy of your pedometer.
If you have those modern pedometers that also have GPS support, you can check the distance from your desired location using google maps. Next, you walk there, and check how accurate the distance traveled metric is.
How does a pedometer work?
Pedometers measure the number of steps a person takes by counting up and down movements initiated when you walk. The device is motion-sensitive, so it doesn't count any unusual motions that are not walking like running or skipping.
It also records your speed as well to give an idea of how far you've gone in one day with just feet!
Pedometers are of two kinds:
1. Mechanical
2. Digital
How does a mechanical pedometer work?
These are the old-school pedometers. Think of mechanical pedometers like a pendulum. A pendulum would go back and forth and count seconds. There's also a pendulum inside mechanical pedometers, but instead of seconds, they swing as you move and count your steps.
Each time you're taking a step, your body would sway as you place your leg forward, then it'll tilt the other way when you take the next step. The pendulum inside the pedometer would also swing and that's how it'll keep track.
The step count will get displayed just like an analog watch.
How does a digital pedometer work?
Almost all modern pedometers are digital. This one also has a pendulum inside, but it's connected to a mini circuit with a spring. Don't worry, you won't get shocked. The circuit is open and there is no current flowing through it; well at least not enough to cause you harm.
As you move, the pendulum would swing and touch a metal at the center, completing the circuit. Thus generating a small spark, it eventually gets counted as a step. As you take the next step, the pendulum swings again, and the same stuff happens.
The spring helps the pendulum swing the other way each time you move. You'll get the readings on the LCD screen.
Benefits of using a pedometer
In case you're still wondering if you should get a pedometer or not, let me help you decide. Here are some of the advantages of using a pedometer:
1. Helps you achieve your fitness goals
Suppose you have a goal of 10,000 steps. But often it seems like a monumental task. If you let the pedometer do the counting and you walk without a thought of the world, you'll see that you're already halfway pretty soon enough.
It's a psychological thing. We often settle for less than the bar we set.
2. It won't let you skip out on your daily walking
Some days you'd feel like, "no, let's take a break today". But that's not gonna happen with one of these devices on your person. They're a constant reminder that you gotta walk and eventually you'll give in.
3. Monitors your steps for you
I think this is a no-brainer. Since it counts the steps for you, you have a much clearer mind, thus you get to enjoy your walk more. It won't feel like a chore. And we all know that when we do things for enjoyment with full enthusiasm, that tends to bring better results.
4. Motivates you to be more active
The only reason you put a pedometer on you is to walk, right? You're not gonna have a pedometer just to laze around. Sometimes we want to walk, but it tends to get lonely.
I don't know if it happens with you or not, but there have been countless times I've skipped walking outside just because I was all alone. Everything is fun when you have a pal with you.
You'll be happy to know, with a pedometer attached to you, you'll feel like you have a friend with you, constantly pushing you to reach your goals.
Every time you check the readings it'll be like someone is cheering you on, saying "hey, you reached so far, try going just a little more".
In text, it might sound like I'm exaggerating but that's really how it feels like.
Also, studies from Harvard medical school show that a pedometer works as a motivator and makes you continue with your daily walking routine.
The University of Edinburgh conducted similar studies and came to the same conclusion.
5. You'll hold yourself accountable, guilt is a superb way to get things done
The person we fear the most is ourselves. We often let ourselves disappoint others, but not our own self. This trait is particularly more dominant in those who hate to lose or fall behind.
If you pursue your daily goals out of fear of failure in your own eyes, that's still good I believe, at least it gets the job done.
Actually, a lot of fitness pursuers use this as their workout fuel.
6. Keeps you healthy
Modern monitors aren't all about how much distance you've covered or how much time it took, or your step count. They're more into your entire well-being. That's why they also add stuff like heart rate monitoring and sleep monitoring.
I believe these are great additions because you can directly see how good your heart's condition and your sleep reports are in real-time.
Not only that, studies also show that people who use pedometers have lower heart diseases, less chance of diabetes, and controlled blood sugar.
It's no coincidence because walking is a remedy for all of them. Users also have less stress levels, lower BMI, and better blood pressure conditions.
After reading all these benefits, I bet a lot of your concerns would be relieved.
Frequently Asked Questions
1. Can you wear a pedometer around your neck?
Yes, you can. Some pedometers even have cables that let you hang it around your neck, but I'd advise against it as then it won't give you accurate heart rate or other physical data.
2. How far can the average 70 year old walk?
A 70 year old who is physically healthy is able to walk somewhere between 2000 to 9000 steps a day. That's roughly 1 to 4.5 miles a day. But if they have any chronic illness or pain, 1500-8000 steps is an acceptable number.
3. How much walking should seniors do?
An elderly person who's age is 65 or above should do aerobic exercise like brisk walking every week for at least 2.5 hours. That's about 30 mins a day. Or, 1.5 hours of jogging everyday is also great, I'll suggest the latter.
4. What exercises should seniors avoid?
Seniors over 60 should avoid every kind of strength training, or even extensive running. It can exhaust them badly.
5. What's the standard resting heart rate for seniors?
According to Markus MacGill of Medical News Today, when an old person is exercising at 50% intensity their standard heart rate should be:
i. 80-136 beats per minute for 60 year olds
ii. 78-132 beats per minute for 65 year olds
iii. 75-128 beats per minute for 75 year olds.
Final words
Finding the best pedometer for seniors can be a daunting task. There are so many options, and elders tend to have particular preferences, just like kids.
I hope that this article has helped you find some clarity on what features to look out for when looking for your next purchase. If you're still not sure which one is right for you, then I believe the Fitbit Charge 4 Fitness and Activity Tracker is a safe bet.
No time to lose – start walking now!